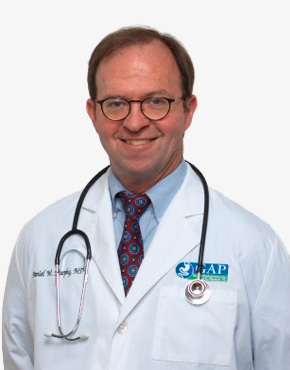 Dr. Murphy received his undergraduate degree from Fordham University and his medical degree from The University of Cincinnati College of Medicine. He was elected to Phi Beta Kappa in 1976.
He completed a residency at North Carolina Baptist Hospital and a fellowship at Bowman Gray School of Medicine of Wake Forest University.
He is board certified in Gastroenterology by the American Board of Internal Medicine and has been a Fellow of the American College of Gastroenterology since 1987. Other affiliations include the American College of Physicians, the American Gastroenterological Association, the American Medical Association, the American Society of Gastrointestinal Endoscopy, the North Carolina Medical Society, and the North Carolina Society of Gastroenterology.
Dr. Murphy is a former President of the Medical Staff at Forsyth Medical Center. He presently serves as the Chairman of the Novant Health Medical Group Board.
He continues to practice full time, providing consultation in gastroenterology and hepatology, with a special interest in efficacy of colorectal cancer screening and treatment of C. difficile infection.