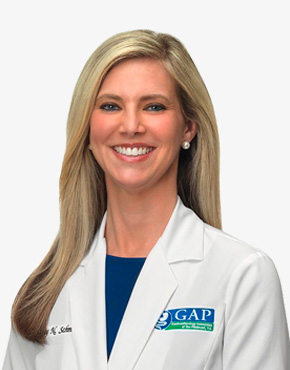 Ashley was born and raised in Greensboro, NC and moved to Winston-Salem to attend Wake Forest University, where she received her Bachelor of Arts in psychology in 2002. Upon graduation, she worked with a company that conducts clinical trials, where she first became familiar with GAP. In 2014, she completed her Bachelor of Science in Nursing Degree, and went on to achieve her Master of Science in Nursing Degree in 2020.
She is board certified by the American Academy of Nurse Practitioners and is licensed with the North Carolina Board of Nursing.
In her free time, she enjoys practicing taekwondo, and is registered at the World Taekwondo Headquarters as a Third Degree Black Belt. She also enjoys reading, tennis, and spending time with her two children, and two stepchildren.